Naples, a Winter Resort City for the Wealthy, Isn't Always Sunny.
12/2/2020 (Permalink)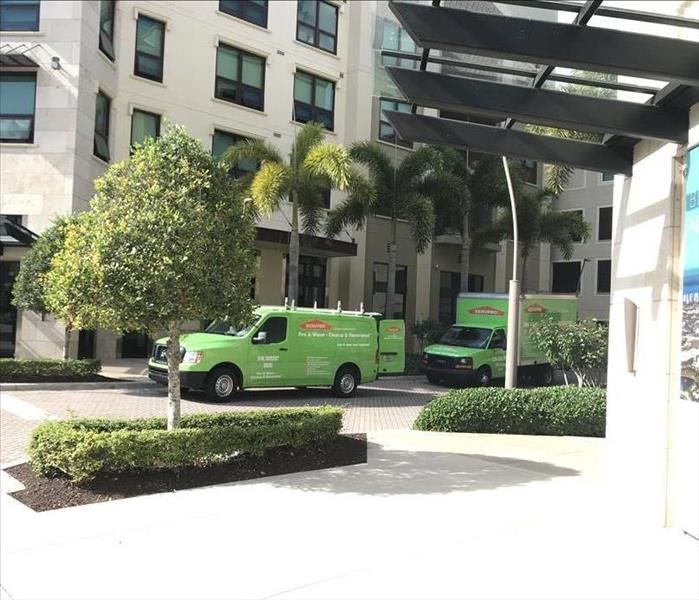 Is your business suffering from any type of water related issues? Call the pros at SERVPRO to mitigate your water damage.
Even Residents of Posh Resort Cities Like Naples Face Challenges
The luxurious history of Naples began earnest in the 1880s when U.S. Senator John Stuart Williams of Kentucky became interested in developing a city in Southwest Florida. In 1885, Williams partnered with Walter Haldeman, owner of the Louisville Courier-Journal, to explore the southwestern Florida coast and find a suitable community location. The two would-be developers eventually found the perfect site where modern-day Naples stands today. This "paradise coast" consisted of miles of sandy oceanfront beaches with a sizable bay behind them. Haldeman and Williams formed the Naples Town Improvement Company in the Fall of 1886 to bring their envisioned town into existence.
The Development of Naples
The new dream city on the Paradise Coast quickly emerged from the sandy shoreline. It was named after Naples, Italy, because of its bay, position on the southwestern end of a peninsula, and sunny weather. The centerpiece of the newly built community was a sixteen-room hotel, positioned on the narrowest piece of land between beach and bay, which opened in 1889. The town's other important early feature was its pier that was two blocks distant from the hotel. As you can imagine, Naples soon became a thriving beach resort area where wealthy patrons attempted to escape the cold weather of their more northern residences. As time progressed, the community became more accessible to outsiders. Rail service arrived in 1927, and the Tamiami Trail, which passed through town and connected Miami to Tampa, was completed in 1928.
A Mecca for the Rich and Famous
As with other small coastal Florida towns, Naples has attracted a lot of wealthy vacationers and homebuyers. This magnetism started almost as soon as it was built. The community's developers, Williams and Haldeman, were both prominent men. Rose Cleveland, sister of U.S. President Grover Cleveland, was Naples Hotel's first guest when it opened in 1889. Numerous other notable people soon followed in her footsteps. Over the past 130 or so years, several celebrities have also made the picturesque seaside community their home. Some of the more recent of these have been author Robin Cook, billionaire sports team owner Shahid Khan, Best Buy founder Richard Schulze, Judge Judy's Judith Sheindlin, prolific narrator Peter Thomas, and a host of professional sports players.
The Glittering Lure of Naples
So, what attracts affluent people to Naples? Well, several obvious things make the resort town the perfect place for moneyed individuals. First, the area offers them access to numerous luxurious leisure activities like:
Yachting: there are several local yachting clubs and a multitude of fascinating seaside landscapes to explore nearby
Water sports: with easy access to both the ocean and protected bays, water sports enthusiasts can enjoy such activities as swimming, parasailing, jet-skiing, and water skiing
Golfing: wherever guests or residents are in Naples, there is always a fine country club close by
Exploring nature: the local area boasts several state and federal parks/forests/preserves/wildlife refuges like the Collier-Seminole State Park and the Ten Thousand Islands National Wildlife Refuge.
High-end shopping and dining: Naples is home to numerous luxury shopping and fine dining establishments
All of the above certainly entices well-heeled visitors and homebuyers alike to venture into our city. However, access to these activities alone is not the community's only draw. Prosperous people seeking to relocate prefer this part of Southwest Florida for a second reason, namely the sheer number of opulent properties it has to offer potential buyers. The most notable of these multimillion-dollar residences can be found on:
Gordon Drive
Galleon Drive
Rum Row
Gulf Shore Boulevard
Admiralty Parade
Spyglass Lane
Potential Downsides to Living in Naples
While Naples is an attractive place to live for many reasons, there are some negatives and risks you face if you choose to live here. These are mostly financial or weather-related and include such things as:
A poor job market
A high cost of living
Real estate scams and shoddily-constructed housing
Severe weather, including heavy rains, flooding, waterspouts, and hurricanes, during the region's rainy season that lasts from mid-May through October.
If you can dodge the financial risks of locating in this pricy Southwest Florida community, you are still always subject to its sometimes troublesome weather. Strong hurricane-force winds can easily damage or even blow the roof off your home. These winds can also turn lawn furniture into destructive projectiles and cause trees/tree limbs to fall on your roof. At the same time, heavy rains and storm surges could quickly inundate everything in sight.
With all that said, as your neighbors, the skilled technicians at SERVPRO of Naples/Marco Island are always here to help you. If your business is ever flooded because of a roof or appliance leak and you need water removal services.
How Can I Determine if My Business Has a Water-Related Issue?
As a Naples business owner, it is crucial that you locate and effectively deal with all water-related damage as soon as possible before it develops into something worse that could potentially threaten your operations. This is especially true for operators of businesses like hotels and restaurants. In order to catch water-related issues early, SERVPRO suggests that you have your business periodically inspected by professionals and watch out for the following signs of water damage:


Musty odors
Mold or mildew growths and surface discolorations
Disintegrating drywall or plaster
Dry rot
Wall or ceiling warping
Buckled floors and similar issues
If you notice any of these problems, you likely have a water leak. This could be caused by several things, like a damaged roof, leaky pipe, a malfunctioning appliance, or corroded water container.
Your neighbors at SERVPRO of Naples/Marco Island advise you to take all water-related issues seriously, regardless of their apparent severity. We would also like to remind you that we are always here to help you with all your water removal needs. Call us whenever you need us at (239) 302-5700.