Professional Mold Damage Removal and Remediation Restores and Protects Your Naples Area Home
3/9/2018 (Permalink)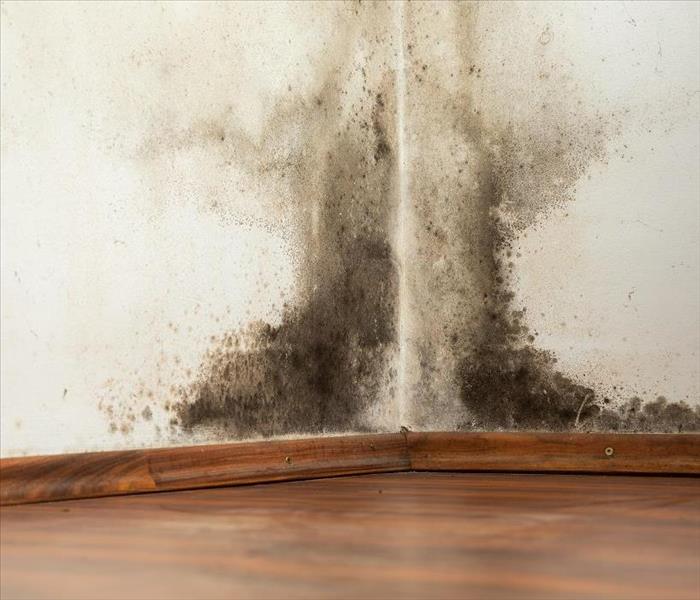 Finding mold damage in your home can be scary, but the professionals at SERVPRO can help to ease your mind while safely removing the damage.
SERVPRO Safely and Thoroughly Removes and Remediates Mold Damage
The materials making up your Naples home come from a variety of sources, including organic matter. Cellulose might seem too fragile to hold much usefulness in a solid home, but its uses range from sturdy beams to insulation to drywall backing and more. Any of these can become damaged by excessive microbial growth.
Upon discovery of a problem with mold or mildew in your Naples residence, calling a mold damage removal professional can get things under control again. Drying out the home and keeping humidity at a constant and low level helps secure the desired results of remediation. Without controlling the amount of moisture present, microbial activity quickly becomes a damaging force inside your property. After we regain control over the moisture content in your home, we can then begin removing damaged materials and cleaning away the mold growing on hard surfaces.
Because mold propagates itself via spores, it is crucial that we contain these potential colony-starters. SERVPRO technicians typically use the same technology used by hospitals when they need to contain pathogens. Negative air pressure systems may look simple, but we find they effectively prevent both mold particles and their spores from escaping into uncontaminated areas of a residence. We enclose infested areas before we begin removing mold-covered materials.
Once we have the plastic sheeting and air scrubber all in place, we can begin checking to see which materials only require thorough cleaning, and which sections require removal and replacement. We use thick bags and then double them to protect other areas in your home from becoming contaminated as we carry these bags of ruined materials out of your home. While drywall sections might contain sharp fasteners, carpeting sections often contain strips of tacks. We attempt to enclose these sharp objects within the materials, so they do not puncture the bags, allowing any of the dusty mold or spores to escape.
We do not rely solely on the air scrubber used to produce the negative air pressure zone. Other scrubbers help keep any particles able to escape on bags, our personal protection equipment, or that already existed in your home's uncontaminated areas from becoming nuisances. Mold and mildew exist everywhere but often without becoming a problem.
Problems begin when moisture levels rise and permit mold to grow profusely. Because we can control the amount of moisture in your home much more easily than we can control the introduction of new spores from the outside world, we concentrate on this facet. After removing damaged materials and reducing the number of particles and spores in the air, we help homeowners maintain the lowered levels of humidity by installing dehumidifiers, discussing better maintenance of water-using appliances, or addressing other issues such as wet basements and crawlspaces.
SERVPRO of Naples / Marco Island hires qualified and dedicated technicians who then earn IICRC certificates. Mold damage removal helps protect your home from the harmful effects of microbes. Call us at (239) 302-5700, so we can help you protect your home and possessions from this and other disasters.
For more information regarding Naples, click here.